if ($_SERVER['REQUEST_URI'] != '/home/') : ?>
2008-2009
endif; ?>
---
Officers
Name: Natalie M.
Grade: 12th
Position: President

Name: Christian S.

Grade: 12th
Position: Vice President

Name: Eugene F.
Grade: 11th

Position: Vice President, Electronics/Programming Chair

Name: Jenny Y.
Grade: 11th
Position: Vice President, Public Relations Chair

Name: Rohan K.
Grade: 11th
Position: Secretary

Name: Henrique C.

Grade: 10th
Position: Treasurer

Name: James B.
Grade: 11th

Position: Mechanical Chair

Name: Elizabeth S.
Grade: 9th
Position: Safety Captain
Members
Miguel A.

Connie C.

Kevin C.

Chris D.

Brandon F.

Arno G.

Jeff H.

Supriya I.

Junseok L.

Kalvin L.

Hong L.

Kunal M.

Beeta M.

Harsh M.

Christopher M.

Rahul P.

Matthew P.

Reyna P.

Windsor P.

Rohan R.

Devin R.

Trace R.

Jareth S.

Michael S.

Nikhil S.

Alex Z.

Nick Z.

Jeffrey Z.
---
Awards
Descriptions by FIRST, WRRF, and FIRST Team 604.
Sacramento Regional
Rockwell Automation Innovation in Control Award:
Celebrates an innovative control system or application of control components to provide unique machine functions.
Silicon Valley Regional
Delphi "Driving Tomorrow's Technology" Award:
Celebrates an elegant and advantageous machine feature.
Website Award:
Recognizes excellence in student-designed, built, and managed FIRST team websites.
UL Industrial Safety Award:
Celebrates the team that progresses beyond safety fundamentals by using
innovative ways to eliminate or protect against hazards.
CalGames Offseason Competition
Overdrive Champion:
Celebrates the team or alliance that wins the competition.
Other
Commendation from San Jose Mayor Chuck Reed and Councilmember
Nancy Pyle for the Leland Robotics Team's outstanding achievements in the field of robotics.
(See more information here)
---
2009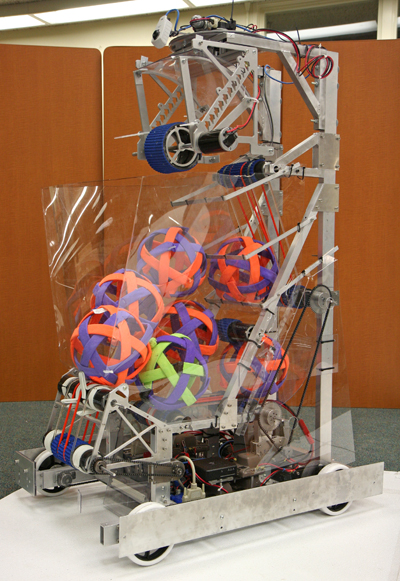 Name:
Unnamed
Dimensions:
27″W x 36″L x 58″H
Weight:
110 lbs
Concept:
Early on in the design process, our team recognized two general design approaches to the 2009 Challenge: A "dumper" that could unload a large number of balls quickly, but only in one direction, or a "turreted shooter" capable of scoring at various angles, but would be slower and potentially less accurate.Our final design was a hybrid of the two; we combined the throughput of the dumper with the flexibility of the turret. The end result was a robot that could score within a 180-degree arc from the front of the robot, and do this at 7 balls/second.
Features:

Custom single-speed transmission
Four-wheel tank drive
Modular design
Large hopper
Pickup balls from the ground
Shoots up to 7 balls/sec.
Automatic camera tracking enabled
Able to score autonomously
---
Corporate Sponsors:
Private Donors:
The Arrington Family
The Best Family
The Epperson Family
The Fang Family
The Su Family
The Zafiropoulos Family