if ($_SERVER['REQUEST_URI'] != '/home/') : ?>
2009-2010
endif; ?>
---
Officers
Name: Eugene F.

Grade: 12th

Positions: President, Electronics & Programming Lead, Webmaster

Name: James B.

Grade: 12th

Positions: President, Mechanical Lead

Name: Jenny Y.

Grade: 12th

Positions: President, Public Relations Lead
Name: Rohan K.

Grade: 12th

Positions: Vice President

Name: Elizabeth S.

Grade: 10th

Positions: Vice President

Name: Henrique C.

Grade: 11th

Positions: Secretary, Treasurer
---
Awards
Descriptions by FIRST, WRRF, and Team 604.
2010 Sacramento Regional
Regional Chairman's Award (Qualifies our team for the Championship Event):
FIRST's most prestigious award, it honors the team that best represents a model for
other teams to emulate and best embodies the purpose and goals of FIRST. The award
helps keep the central focus of the FIRST Robotics Competition on the goal of inspiring
greater levels of respect and honor for science and technology.
Regional Champion (Qualifies our team for the Championship Event):
This award celebrates the team or alliance that wins the competition.
CoopertitionTM Award:
The CoopertitionTM Award celebrates the team that best demonstrates the ability
to help their opponents compete. In the inaugural year of the Coopertition Award,
the award will be granted to the team that earns the most Coopertition Bonus
points during the competition.
Woodie Flowers Award — Mrs. Arrington:
The Woodie Flowers Award celebrates effective communication in the art and science of
engineering and design. Dr. William Murphy founded this prestigious award in 1996 to
recognize mentors who lead, inspire, and empower using excellent communication
skills. The Woodie Flowers Award is presented to an outstanding engineer or teacher
participating in the robotics competition who best demonstrates excellence in teaching
science, math, and creative design.
2010 Silicon Valley Regional
Engineering Inspiration Award (Qualifies our team for the Championship Event):
Celebrates outstanding success in advancing respect and appreciation for engineering
within a team's school and community.
Outstanding Volunteer of the Year Award — John & Maggie Best
Dean's List Finalist — Eugene F.:
This award celebrates outstanding student leaders whose passion for and effectiveness
at attaining, FIRST ideals is exemplary. The Kamen family hopes this honor not only
recognizes these student leaders' tremendous recent accomplishments, but also inspires
them to continue their great work for FIRST as alumni. FIRST Dean's List Finalists will
compete at the championship for the FIRST Dean's List.
2009 CalGames Offseason Competition
Lunacy Champion:
Celebrates the team or alliance that wins the competition.
BAE Systems Design Award:
Winner of this award will demonstrate a unique or exceptional design element to the judges. This element could be in the software or hardware design of the robot.
BLADE Entrepreneurship Award:
This award recognizes that it takes money to make robots and to compete in FRC year after year. This award recognizes a team that has developed a process to find, foster, and grow funding resources, allowing their team to be successful. This award recognizes more than simple fund raising; it recognizes the team spirit and enthusiasm needed to develop a strong set of sponsor-team relationships. A business plan or display would be helpful.
---
2010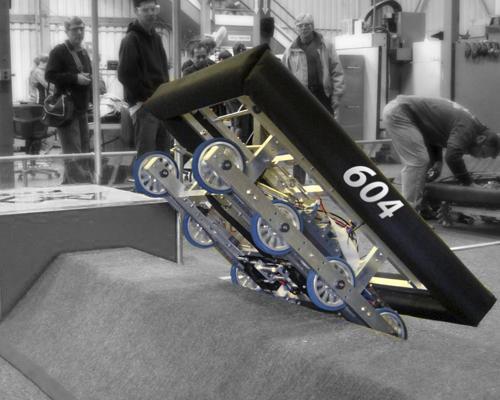 Name:
OverKill
Dimensions:
27″W x 37″L x 16″H
Weight:
120 lbs
Concept:
Our team decided that the ability to go over the bump would be important in the game. Although going under the tunnel would be difficult (due to the careful alignment involved), we decided to build the robot so that it could drive under the tunnel if we needed to, both as a way to force us to keep the center of gravity low as well as to give us the option of going under the tunnel the one time it may be useful. To maintain maneuverability as well as go over the bump easily, we chose an eight-wheel-drive design.A surgical tubing powered kicker, reloaded by a pneumatic cylinder, was simple to design and implement, and has less points for failure. It allows us to kick the ball into the goals from almost anywhere on the field.

Finally, because the robot would be very short relative to its weight, we were able to strengthen parts of the robot where, in previous years, we would not have the weight to do so. The result is an extremely robust design.

Features:

Custom two-speed shift on the fly transmission (8 and 16 feet per second)
Extremely robust
Very low center of gravity; virtually impossible to tip by itself
Ball retention device to possess balls when the robot lines up for a shot
Kicker capable of scoring from all three zones
Goes over the bump and under the tunnel

Code:
GitHub
---
Corporate Sponsors:
| | |
| --- | --- |
| | |
| | |
| | |
| | |